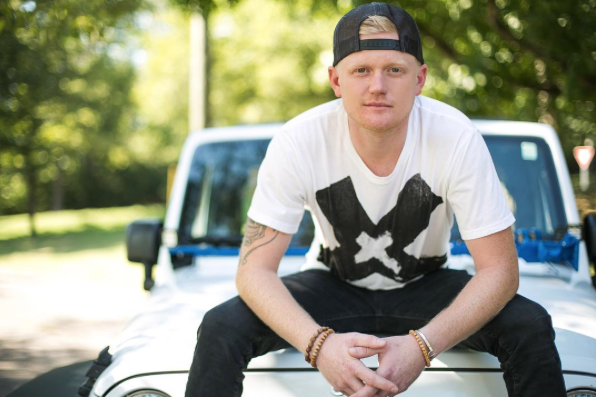 Next time you're at The Valentine on Broadway and see that good lookin' guy in a NASH hat spinnin' some records, make sure to give him a congrats! We are so proud to announce that our good friend, HISH, has signed to Silverado Records.
Congrats HISH, here's to what is to come for you!
Nashville's Hottest New Label Silverado Records Signs Crossover Artist HISH

Nashville, TN (September, 28 2016) - Country music record label, Silverado Records, is proud to announce the addition of country/EDM crossover artist HISH to their roster. HISH joins recording artists Melissa Mickelson and Zack Dyer on Silverado's list of elite clients. "HISH is a pioneer, a visionary taking risks on a genre that has fans embracing his unique take on Country. I am so stoked to have a groundbreaking artist like HISH on the Silverado team" A&R Director Aaron Chesling, Silverado Records.
"What I'm doing with Country Music in the EDM realm is something that breaks down a lot of Nashville barriers," says HISH. "I'm so excited to work with the energizing team at Silverado Records to do just that. They understand and fully support my brand and my vision. Be ready for things to heat up in 2017"
About HISH:
Originally from Pennsylvania, HISH moved to Nashville in 2011 and began writing songs and DJ'ing at some of the biggest private events in Music City. The songwriter turned Artist-Producer quickly began to make a name for himself with his electro-infused spin on Country Music. Having heard his remix of "Bottoms Up," HISH was invited by Brantley Gilbert on his "Let It Ride" Arena tour in 2014, further exposing his unique sound to thousands of fans. In Spring 2015, HISH toured as direct support to Chase Bryant on his "Take It On Back" tour. In 2016 he has toured with Dustin Lynch on the "Hell Of A Night Tour." He also held several successful performance slots at Country Music's biggest festivals, including Stagecoach and Country Thunder. HISH signed with Silverado Records in 2016, and is currently in studio working on a groundbreaking EDM-meets-Country experience. His incredible take on the collision of Country and Dance music is unlike anything done before, and is sure to be a game-changer.

About Silverado Records:
Launched earlier this year, Silverado Records hosts offices in Nashville and Las Vegas and has become a haven for established and rising country artists hoping to carve their own path in the music industry. Founder and CEO Scott Thomas, a serial entrepreneur and entertainment industry veteran, is also the CEO of Silverado's parent company, Exegan Music Group, which owns or controls more than a dozen other record label catalogs. The first half of his career was rooted in the radio business, as a radio DJ, production manager, and program director before co-founding Zeo Radio Networks in Denver. Thomas moved to the record side in 2008 with the launch of Jake Records. Thomas is joined on the Silverado Records team by accomplished industry professionals with storied careers at landmark labels and organizations. A&R Director Aaron Chesling formerly served as Logistics Coordinator for Big Machine Records and Heather Cramsie serves as the Marketing Director after a successful run as the Director of Southeast Promotion at Sidewalk Records. Social Media Director Tim Stewart hails from Las Vegas where he did freelance social media seminars for tech startups in Silicon Valley, now working out of the Exegan Music headquarters. Follow the latest Silverado Records news atwww.silveradorecords.com, on Twitter @SilveradoLabel and Instagram @SilveradoRecords.
---