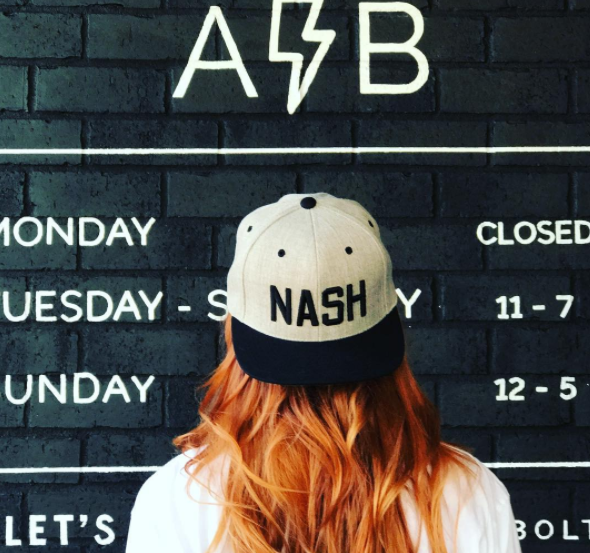 Here at The Nash Collection, one thing we appreciate is welcoming hearts in a new city. Since most of us are considered as transplants, we have a deep appreciation for the people in Nashville who welcomed us into the city with open arms. With that said, we've decided to do the same thing, and have created a "New in Nash" blog interview series. We'll be keeping you updated on the newcomers to our wonderful city, and learning about what their mission is here in Nashville!
We're so excited to introduce you to our first victim, Kate Sbarra. Kate's not only a cool chick, she clearly has some serious taste in clothing if she chose to pick up our brand! (Yep, you read that right--she'll be our stockist in the Germantown area!) She just recently moved here from Rogers, AR and has opened her own shop called Alexis + Bolt in Germantown. Kate is a doll, and the shop is freaking awesome. Ready to learn more? Here we go!


1. Introduce yourself!!
Hey y'all! My name is Kate Sbarra, I'm 29 years old and I hail from Rogers, AR - home of the first Walmart! I could tell you that I love to travel, shop and I'm always hungry - but who isn't? I'm have a morkie pup, Chloe, who thinks she's a cat and frequents the tops of couches and my shoulders. I'm addicted to all things Harry Potter and when I graduated from grad school my parents gifted me with a trip to Universal Studios. I spent the entire visit exploring the HP park with my younger sister (this was my personal request btw - major nerd alert). I even made a solo trip to the park a couple years ago. Someone please take me to London to tour the studios. I'll love you forever. Also, I'd be lying if I said the "Bolt" in the store name wasn't influenced my my obsession. I don't tell this to most people, but since we're friends, I'll let you in on the secret. 
2. Why Nashville? What brought you here?
I fell in love with Nashville when I came for the Rock & Roll half marathon 2 years ago. I ran it again this past year with my best friend from home and while she has gone on to conquer a half iron man, my running shoes are still sitting in my closet with the tracker tag attached. Oops! I swear I'm going to attempt the half again for my third time this April - holla at me if you wanna training buddy with a 9 minute mile pace. 
But real talk - I just loved the city and the people. This place is truly a melting pot of people from all over the country and I've never met friendlier folks. Setting up shop in a new city has been super challenging and I'm amazed when I look back at all the helpful businesses, new friends, and random strangers from Nashville who have helped me along the way. THANK YOU ALL! 

3. What made you want to open your own store?
 I received a BA in History at the UofA(rkansas) and a MA in Museum Studies from Johns Hopkins University. I my had my dream job as a Collection Manager for Crystal Bridges Museum of American Art. I enjoyed the travel and getting to work with world class art, but I missed the daily interaction with people, especially peers. I decided to switch industries and went on to work for a Social Shopper Marketing company as an Account Executive. My coworkers became my very best friends, I loved my clients and best part is Chloe got to come to work with me. Side note - we actually have TWO shop dogs. You gotta meet our big goofball, Charlie. He's a golden doodle and loves everyone. Please pop in when your walking your pups in the neighborhood. 
So back to the store - I'm turning 30 this year and it really made me stop and think about where I wanted to spend the next decade and what I wanted to be doing. I come from a family of entrepreneurs and business owners. Thanks to their example and encouragement I have never been afraid to step outside of my comfort zone to apply my skill-sets to excel in new activities careers and adventures! 
4. What are you most excited about? 
Exploring Nashville, making new friends and watching A+B grow! Alexis + Bolt isn't just about filling a box with a random assortment of clothes. I've curated a collection of goods that create a cohesive story that also includes a range of price-points. I specifically chose to build this store within a home in a growing neighborhood that could provide our guests with a unique shopping experience. I want people to like coming here even if its just to sit at the kitchen bar, grab a beverage and watch the game. Basically, I can't wait to meet you all!
5. What are your goals for this year?
Taking A+B online! I can't wait to launch the e-commerce business so I can make our goods available to everyone!
6. What do you do when you're not working on the store?
*Does Not Compute* haha
Once we're open and I have a bit more time to explore the city I look forward to enjoying the trails system, farmers market, new restaurants and music venues!
7. If you were stuck on an island and could only bring 3 items, what would they be?
My iPhone (please tell me there's wifi), Chloe and large Titos and grapefruit (salted rim please) - this place better be all-inclusive. 
We're excited to announce Alexis+Bolt as one of our newest retailers in the Germantown area! Be sure to stop by and visit Kate and meet her precious pups, and pick up a hat while you're at it. 
XOXO
Bonnie 
@shakeyourbonbonz
---