Weekend In Nashville: Your 3 Day Guide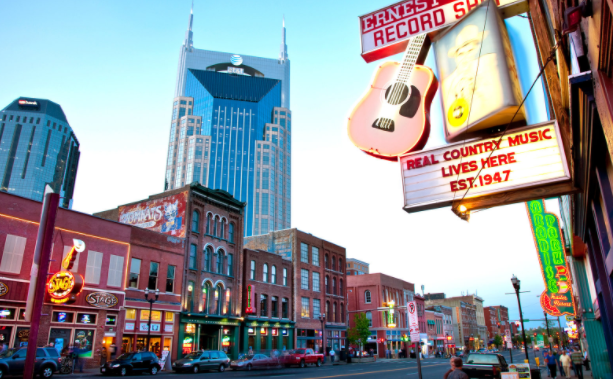 With Nashville being the fourth-largest city in the southeastern United States, and also being home to an absurd amount of musical talent, the city is always buzzing with newcomers and visitors. (And traffic. But that's besides the point.) It's the hottest new city, so you've decided to plan a 3-day weekend trip with some of your favorite people. That gives you less than 72 hours to squeeze in every Nash'esque adventure possible to get the full experience. WHAT DO YOU DO? WHERE DO YOU GO? WHAT THE EFF IS A HOT CHICKEN? Well, I'm here to tell you to calm yo'selves, children. Let me give you the low down so you can enjoy every moment of your weekend, panic free. 
Let's say you arrive on Friday night, fresh off the plane and ready to rumble. You check into your hotel and realize your stomach is on loud. Here's what you do about that. You check out Pinewood Social. Located at 33 Peabody St, Pinewood is the home to not only amazing cocktails and fabulous food, but also the perfect place to relax and have fun with your people. They have bowling, bocce ball, and lots of great seating. Not to mention it's freaking adorable. 
After dinner, you're feeling full and happy and ready to hit the town. This is when you head to Broadway St., for what I like to call the Broadway Bar Crawl. (I literally just made that up. If that's copy written by someone somewhere, I do apologize.) We'll start you off at Acme Feed and Seed on the rooftop. Here is where you will find an amazing view of both the river but Broadway St. as well. 
After Acme you will head on across the street to The Valentine. It's a 3-story bar located right next door to Crazy Town, which is also an extremely fun place to frolic after a few dranks. The Valentine also has a fun roof top bar with great ambiance, and lots of people ready to have a good time. 
Your last Broadway stop of the night will end at Honky Tonk, which is a classic. Here you will find a fun live performance of some sort along with a crowd of people singing and dancing along. Here is where you jump right in, and dance along with these wonderful strangers. 
This is where your first night in Nashville comes to a close, but don't be sad. You're only getting started. Get some sleep, because you have a big day ahead of yourselves tomorrow!
So, I'm sure you've all heard the saying, "Saturdays are for the boys." Well, around here, it's "Saturdays are for the brunch." So here comes your Saturday morning brunch fix.
Urban Grub is located at 2506 12th Ave S. Here you will find some of the best brunch options, anything from oysters to hash browns. They have tons of seating which makes your wait time much shorter than most places. There are tons of shops right along this street that you can pay a visit to after your amazing meal, and some great coffee shops and ice cream stops as well. 
After brunch you have a few options to pursue. If you're in the mood to get some exercise, take a walk on the Pedestrian Bridge. Here you will get a fantastic view of the river and release some endorphins while you're at it. If you're in the mood to explore some history, check out The Country Music Hall of Fame or The Parthenon. In the mood to do a little day drankin'? Check out Party Porch Nashville to get a moving tour of the town while sipping on some cold ones. 
After any of these shenanigans, you'll probably be in the mood for a nice good nap. Head back to your hotel to get a little rest and start getting ready for the evening. 
After some R&R, when your tummies are hollering at you again, it is time to head over to 5th & Taylor located at 1411 5th Ave N. Here you will find some un-beatable drinks, food, and ambiance. It is quiet enough to visit with your people and noisy enough to not feel obnoxious when the wine starts making you laugh louder at your silly friends. 
Once dinner comes to an end, it is time to head over to UP, a rooftop lounge, located at 901 Division St, above the Fairfield Inn & Suites. Here is where you will see the greatest view of the city you could ever imagine. Grab a drink and sit with your friends and enjoy the view. Here is also where you can also get some totally Insta-worthy pics. Just saying. 
After drinks at UP, it's time to head on over to Demonbreun St. This is the home of numerous fun bars, all located conveniently next to one another. Check out South, Dawg House, and Tin Roof for the upbeat party environment and enjoy your evening dancing with your friends. At the end of it all, be sure to hit up Daddy's Dog's on your way out for the best late-night fix of your life. (The best hot dog stand in the world usually located right outside of Tin Roof.)
It's Sunday morning now, and you're exhausted. Before you have to bid farewell to this amazing city, get some good food in your bellies to help soothe your hangovers and your travel blues. Hit up Tavern located at 1904 Broadway and experience one of the best brunches you'll ever have in your life. Also, it's buy one get one drinks. WHATS BETTER THAN THAT??
All in all, I hope you find this information valuable and helpful in your journey around Nashville. If you're looking for a keepsake, stop by Revv (1815 21st Ave S) and get yourself a NASH hat and think of your wonderful time here every time you wear it.
XOXO
Bonnie McGoogan
@shakeyourbonbonz 
---